Free your Business!
Becoming one of Stow Your Bags franchisee means becoming part of an innovative reality, with great prospects for growth and marketing opportunities, without having to dedicate time and resources to it.
Would you like to know more?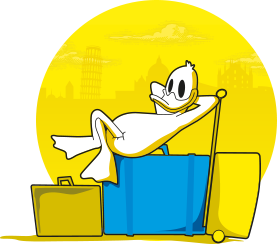 Why choose the franchising Stow Your Bags?

Because it's a fully automated business.
Stow your Bags easily adapts to the needs of those who have a full-time job or any other type of activity but want to invest in a very profitable business with minimal management efforts.

Because is a fast growing business
Thanks to our strong marketing brand, you will immediately enjoy a high web visibility that will allow you to start earning from the first day of opening, skipping the normal start-up process of a regular business activity.

Because it demonstrates an ongoing growth of business
Running a 100% automated store, means having very low managing costs. For this reason you will have a fast return on investment, being able to reach your break point starting from 16 months after opening!

Because it is an easy set-up
Our success formula is designed to allow our franchisees to open more than one automated luggage storage, creating a solid and diversified network. Because together we could grow better and stronger!

Because it is a business with no obligation of further investments.
Unlike traditional franchises, becoming a Stow Your Bags franchisee, you will not be forced to buy any kind of goods or equipment, once you start your business.
Open your Stow Your Bags!

1. CONTACT US
The secret of a franchise is a good relationship between franchisors and franchisees. Contact us, we will be happy to meet you and to illustrate the characteristics of the investment.

2. LOCATION SCOUTING
The choice of location is crucial for the success of Stow Your Bags. For this reason, we will assist you in identifying the most suitable place for your Stow Your Bags.

3. PREPARATION AND TESTING
We will provide you with the hardware and software necessary for the automation of your shop on loan and send our technicians for the set-up, testing and training.

4. DEPARTURE
A dedicated page will be created for your deposit on our site, so you will be able to immediately benefit from the Stow Your Bags customers' network. You will no longer have to worry because we will take care of everything!