Our Path
There are many different types of travelers: people travel for vacation, for business or for any kind of different reasons. The Stow Your Bags project was created to achieve a common need to all travelers: the possibility of getting rid of your luggage and moving freely, feeling confident that you have entrusted your suitcases to those who will take care of them with the utmost attention.
Thanks to the trust of thousands of customers who have chosen our service, today Stow Your Bags is the market leader in Europe.
Few years after the opening of the first luggage storage, we grow fastly to an international network of over 20 stores in the main Italian cities and in Spain. We don't intend to stop here!
The road ahead of us is still long and full of exciting new opportunities and together we can become stronger. For this reason we have decided to make our know-how available to our affiliates, to create an international franchising network. Would you like to know more?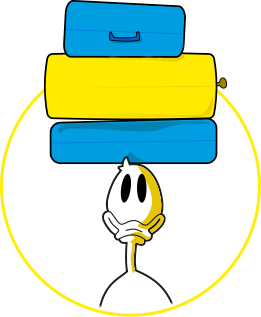 ROMA | Vatican Museums

August 2016

MILANO | Central Station

April 2017

ROMA | Termini Station

April 2017

ROMA | Spanish Steps

June 2017

FIRENZE | Piazza della Signoria

September 2017

FIRENZE | Santa Maria Novella Station

April 2018

NAPOLI | Central Station

April 2018

VENEZIA | Rialto Bridge

June 2018

VENEZIA | Santa Lucia Station

August 2018

CATANIA | Saint Agatha's Cathedral

September 2018

MADRID | Atocha Station

March 2019

BARCELLONA | Sants Station

March 2019

PISA | Central Station

May 2019

MADRID | Puerta del Sol

July 2019

BARCELLONA | Sagrada Familia

July 2019

VERONA | Verona's Arena

July 2019

TORINO | Porta Nova Station

September 2019